DRINK
Try the Green Tea Shot Today To Become Charming | 2022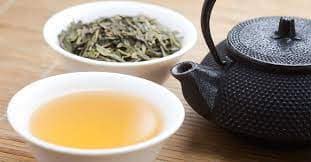 What Is Green Tea?
Green tea shot is a classic tea which is originated by Jameson. A green tea shot is the best way to celebrate the summer overnights with friends. We also have tea shots at parties or get together with our friends. Jameson whiskey company invented the recipe for a cocktail. So sometimes it refers to as "Jameson Green Tea". A green tea shot is a whiskey-based cocktail. I am not a whiskey fan, but last year I was on a trip with my friends. 
My friends developed a passion for cocktail mixology that change my tune. Features of the Green tea shot are Japanese whiskey, peach schnapps, and homemade sour mix. The taste of the Green tea shot is not like Green tea. The taste includes a pale yellow-green whiskey-based alcohol shot that is sweet. The tea shot has ao a combination of delicious peachy. The actual taste of green tea has like peach, lemon, and lime.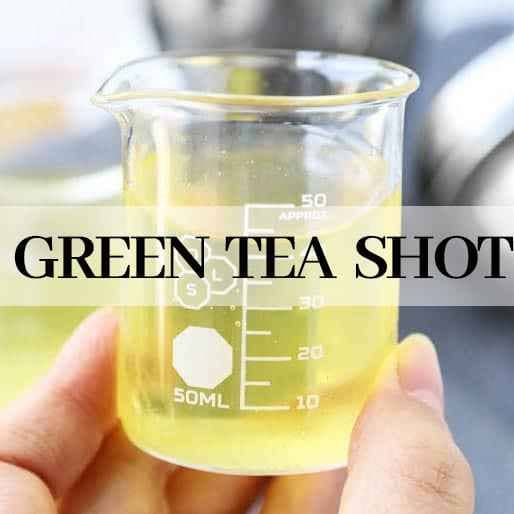 The tea shot reminds me a bit of limoncello. Tea is served in shot glasses in bars or restaurants, usually 1 or 2 ounces. If you want to get more info about ounces, cups, and other measurements visit here. The simple drink includes bursting with irresistible sweet, and sour flavor and has a colorful green hue. For making the Green tea shot you need Jameson whiskey, peach schnapps, sour, and a splash of lemon-lime soda. 
This is the classic recipe for a Green tea shot. The green tea shot has a sweet, sour flavor that's always pleased the crowd. Other famous shots are lemon drop shots, pineapple upside-down cake shots, and cinnamon toast crunch shots. The cost of a Green tea shot is around $10 in U.S bars.
Where Did The Green Tea Shot Originate?
The inventor of this green tea shot is "Jameson" and named tea such for its green color. The actual shot has no green tea in it.
Why Is It called Green Tea Shot?
Because the color of this drink is also green, it has been given the name of its color. Drinking it relaxes the body. Its sweet and sour taste, however, is very different.
How To Make a Green Tea Shot?
Step 1. Is to fill the cocktail shaker with 3/4 small ice blocks. The ratio of cocktails is 1:1:1. This ratio is to make more than one shot.
Step 2. Add 1-ounce of Jameson Whiskey to a cocktail.  1-ounce Peach Schnapps, and 1-ounce sour mix. (This is for 2 shots.)
Step 3. After adding this, Shake for 5-10 seconds.  then pour the mixture through a strainer into shot glasses about 3/4 of the way full. Cover tightly with the cocktail lid and shake vigorously for about a minute. This chills the green tea shot ingredients and adds a little bit of water to smooth it out.
Step 4. Splash a lemon-lime on the top of the soda.
Green Tea Shot Recipe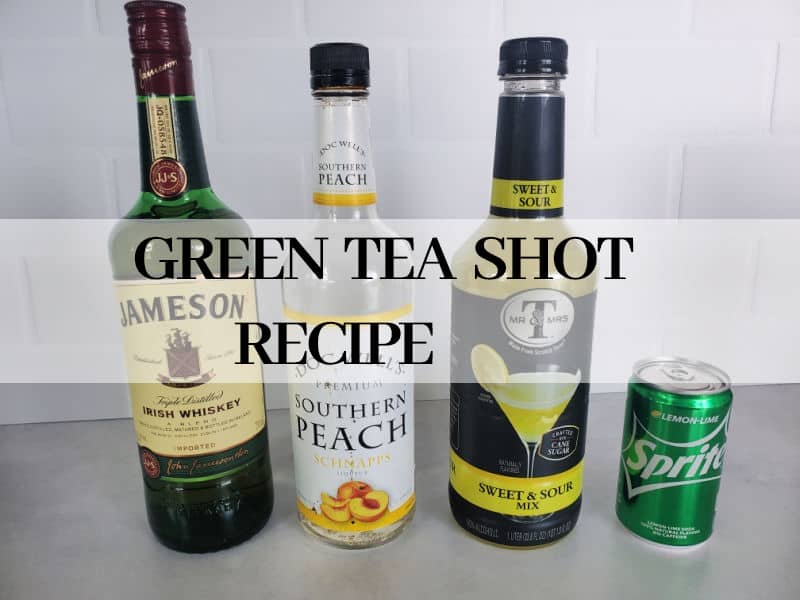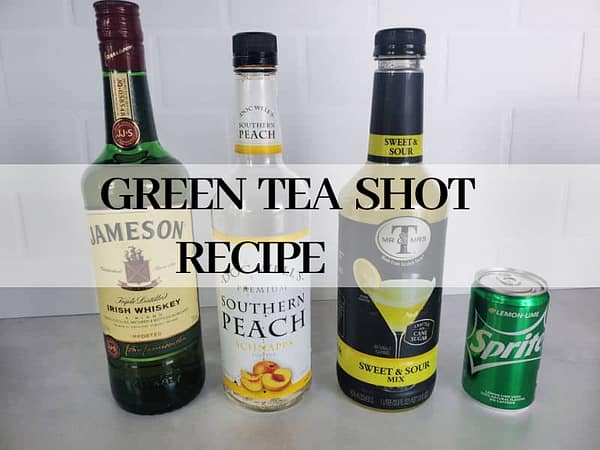 This Green Tea Shot is a simple beverage that explodes with irresistible sweet and sour flavors and has a colorful green color. All you need is a splash of Jameson whiskey, peach squash, pickles, and lemon-lime soda.
What's In Green Tea Shot?
Although the name suggests that the recipe contains green tea, it is based solely on the color of the beverage. If you like green tea, try our Micha Lets or Micha Smoothie Bowls.
Jamieson Irish Whisky – a smooth Irish whiskey with a mellow and approachable palate. You can substitute for a whisky of your choice if you don't have Jamieson on hand.
Peach Schnapps – An alcoholic beverage made from distilled peaches.
Sweet & Sour Mix – This can be found in the beverage aisles of most grocery stores.
Lemon-Lime Soda – I used Fresca because I love it and it is sugar-free (not that it really matters) but you can use Sprite, 7 Up, or even lemonade to top of this shot.
What Is Great About This Green Tea Shot
It has only a few standard bar ingredients
You can't taste the alcohol or barley can
It's not too sweet or sour but instead perfectly balanced.
Goes down smooth so no need to grab on to something and fan the flames of fire after it goes down.
Relatively low in alcohol compared to many parties shot recipes so even people who typically avoid shots can most likely handle this one.
It can be made into a cocktail easily for those who want to sip instead
Does This Green Tea Shot Taste Like Green Tea?
NO,
Not at all. And truth be told, I don't know why it would be called on earth except for a trick that might make it seem healthy? Maybe the person who gave it the title was fond of green tea and drank too much? I don't know where and why it will be called except for the fact that the color is similar to the color of a little watery tea.
Homemade Sour Mix
Make simple syrup – Pour water and sugar into a saucepan and simmer on medium heat. Occasionally stir to dissolve the sugar. Once sugar is dissolved, pour the simple syrup into a glass jar to cool.
Add lemon and lime juice – When the simple syrup cools, add in lemon and lime juice and give it a good stir or shake.
Substitutions
Store-bought sour mix – While we recommend making sour mix yourself because it is easy to make, you can also buy it at the store if you don't feel like making it yourself or don't have time.
Whiskey – Substitute Jameson or your favorite whiskey for Suntory whisky.
Lemon-lime soda- You can replace sparkling lemonade with lemon-lime soda, lemon soda, or lime soda. Lemon-lime soda and lime soda will add extra lime flavor.
Variations
No ice cubes – Omit ice cubes if you prefer this shot cool rather than cold
HOW To Make A Jameson Green Tea Shot?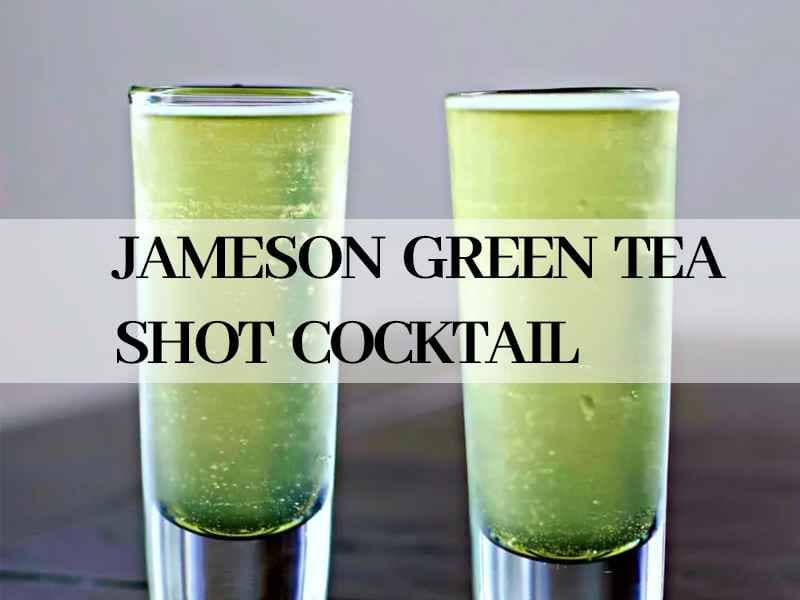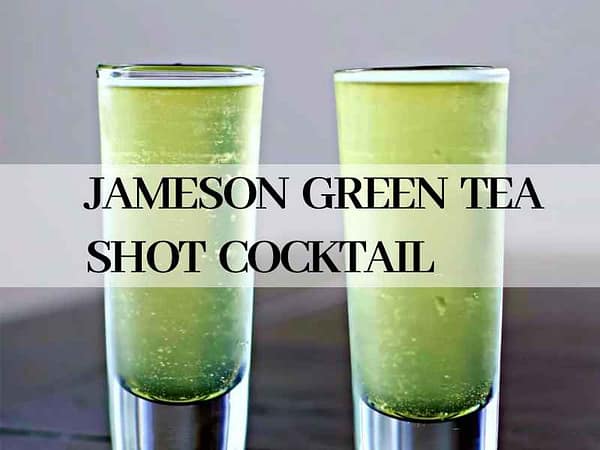 Add ice cubes to a cocktail shaker or glass. You will use 2 ounces or 1 tablespoon how many tablespoons in an ounce chart) each of Jameson Irish whiskey, patch schnapps, and pork mix.
Then pour each ingredient into a glass or cocktail shaker and then shake or cover and shake vigorously to cool. Pour the drink into a shot glass and top with lemon-lime soda.
Are Jameson's green tea shots strong?
These shots don't taste strong, but they do have a good amount of alcohol and a powerful kick. They are very tasty and can be very easy to make if you are not careful.
Alternatives to Jameson Irish Whiskey
Although the drink is traditionally made with Jameson Irish whiskey, the following items make it an acceptable alternative to Jameson:
Clontarf 1014:Clontarf 1014, and Jameson are both smooth and full-bodied. Clontarf 1014, on the other hand, is aged in oak, giving it vanilla and caramel aromas.
Powers Gold Label: Powers Gold and Jameson are both pleasant and mellow. While Jameson has a more nuanced flavor profile, Power Gold is more flowery, peaty, and somewhat sweeter.
Tullamore Dew: Both Jameson and Tullamore Dew are manufactured using Irish barley and aged in oak; however, Tullamore Dew is smoother and has floral overtones because it is triple-distilled with spring water from the Slieve Bloom Mountains.]
Can This Party Shot Be Made Into A Cocktail?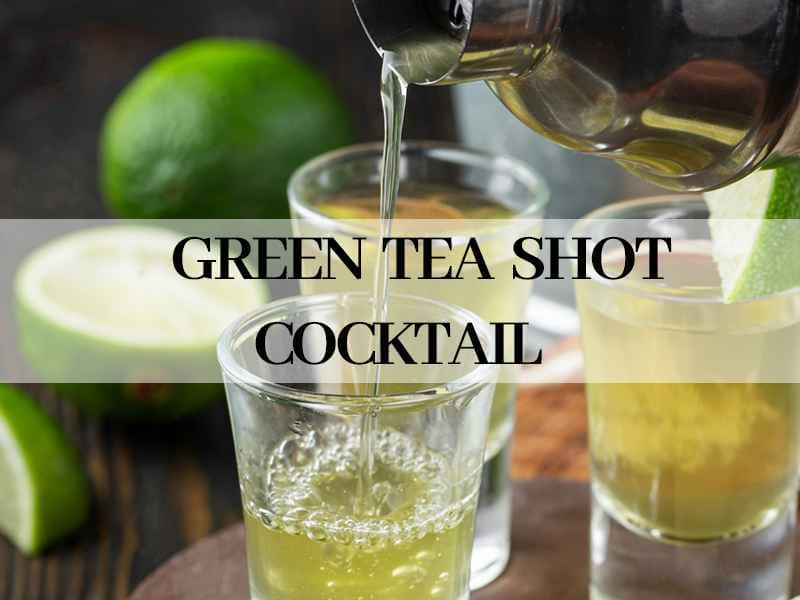 You bet! It's just as easy as not wanting to share it with your friends.
Instead of putting green tea shots between two shot glasses, be greedy and put it all in your glass. Or be good and double the prescription and make the price of two glasses. Remember sharing is the only care!
Green Tea Shot As A Full Cocktail Drink
Would you rather not have a fast cocktail shooter? I, too, prefer to sip my beverages and appreciate them carefully. This beverage may still be sipped in a shot glass or enjoyed as a complete tea cocktail with a toned-down and lighter flavor.
Can this shot be made into a cocktail?
If you do not enjoy your drink in one sip, try making it a cocktail. Just put it in a large glass-like Martini Glass or Short Cocktail Glass and add a little extra sprite. You can also serve it on ice for an extra cold drink.
For more articles visit this link: techblogstar